Take a trip with me to time when Avocado green, shag carpet, bold wallpapers
were in most homes and a van in most driveways
A time when, looking back now makes me smile with its simplicity
No computers, but we did have Atari...Pong was cool, man
I think we were the first to have a VCR. The kind where the slot
popped up on top and it messed up you drew straws who was going to
stand with their hand on it to hold it in place until it "caught"
I remember our kitchen most it being the central location in family settings
Ours had HUGE orange & yellow flowered wallpaper
Avocado green appliances, and this complex plastic grate over fluorescent
6 ft long lights. I am pretty sure you could land a plane if ever needed.
We had a pantry with those slotted doors, and I would frequently crawl
in with the 50 ft of curly phone cord to get a little privacy.
I remember that I could walk around the den/dining room and back into the
kitchen before the curls looked straight. Oh, and it wrapped around my
finger about 8x or so. "Re-curling" the cord was actually on my
Saturday list of chores......pinky swear
My newest kit requested by my Etc friends, was created for them
but with an "Ode to the 70's color vibe" I could not resist!
* SPECIAL PURCHASE *
Thurs Nov. 17th and Fri. Nov 18th ONLY
Buy the kit and receive the wordart FREE!
(Do not add wordart to cart, it is already attached to the kit files)
How about some inspiration?!?!
There are even a couple of yummy recipes that have been scrapped!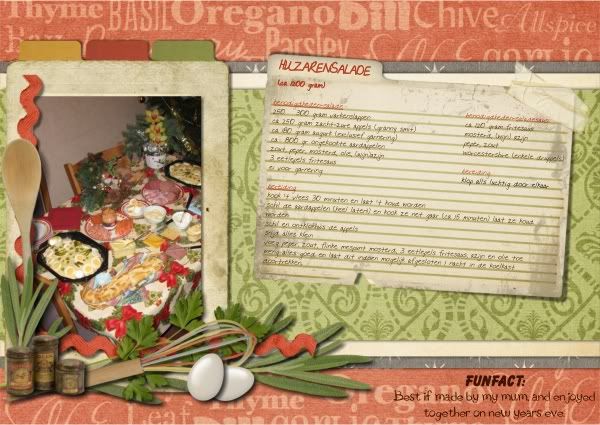 A hybrid cover for a recipe book!

I have posted a complimenting freebie retro alpha on my
I hope you are inspired to scrap some memories or maybe create some
more this upcoming holiday baking season
Until next time...Keep on Truckin'